January 18, 2023, | EASTERN PILOT   IPOB PRESS RELEASE   The Movement and the family of the Indigenous People of Biafra (IPOB)...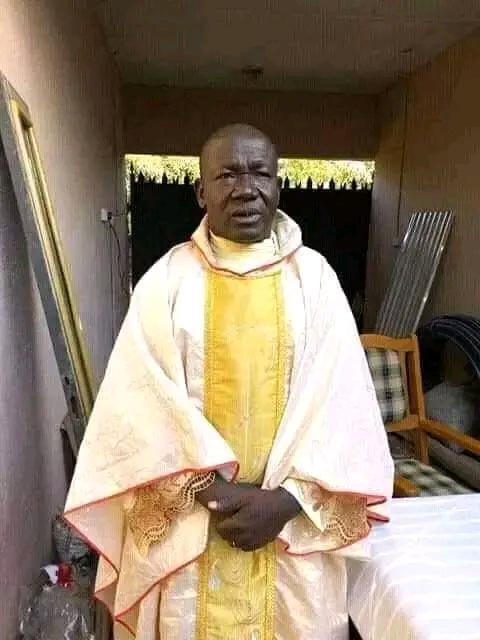 January 18, 2023, | EASTERN PILOT
IPOB PRESS RELEASE
The Movement and the family of the Indigenous People of Biafra (IPOB), under the leadership of Mazi Nnamdi KANU, condemn the barbaric murder of an Igbo Catholic Priest by Fulani terrorists in the Northern part of Nigeria.
Fulani herdsmen burnt an Igbo Catholic Priest, Reverend Father, Isaac Achi of Saint Peter & Paul Catholic Church, to death in the Kafin Koro Community in Paikoro Local Government Area of Niger State.
Fulani herdsmen invaded the community at about 1:00 a.m. on Sunday and began shooting indiscriminately. It was reported clearly that the Fulani terrorists burnt down the building where Rev. Fr Achi hid when they couldn't gain access to abduct him. Even when the church members alerted Nigeria Security Agencies during the attack, they refused to come to his help and rescue.
It's imperative for Christians in Nigeria to understand that the Fulani agenda with tacit support from Fulani controlled Government of Nigeria has an agenda to forcefully Islamize and Fulanize this country, Nigeria. The burning alive of an Igbo Catholic Priest in Niger State by Fulani terrorists is not only barbaric but also an affront to the Igbo Nation and Christian Association of Nigeria. Fulani terrorists have been killing Ndigbo in the North at any opportunity, and this must not continue.
Catholic Church and Nigerian Christians, in general, must not allow the constant intimidation and killing of Christians to continue. Christians, wake up! This Fulani jihad is directly targeted at you.
Fulani terrorist jihadists killed Deborah Yakubu in cold blood in Sokoto state for doing nothing wrong. She did not do anything wrong when Fulani jihadists killed her and released Muslim ladies while abandoning Leah Shaibu because she was a Christian lady, and the Christian Association of Nigeria, CAN did nothing.
Nigerian Christians are doomed if they do not stand up to defend themselves against these murderous Fulani Agendists. Waiting on the Nigerian security agents to defend them is committing suicide. Muslims in Nigeria are all in support of the numerous massacres and humiliations by the Fulani terrorists. It is time Christians wake up from their slumber and realize that the Fulanization agenda is here and is no longer a secret. The present Government and its Security Agencies are part of the agenda. That is why they will never respond to distress calls during terrorist attacks, neither will they arrest any of the murderous terrorists let alone prosecute them.
Christians must stand up and fight these terrorists or be exterminated. The agenda is not only about religion but is also an ethnic cleansing agenda supported by the Nigerian government and its Fulani-dominated security apparatus.
IPOB is calling on all Christians and Christian Organizations in Nigeria to wake up from their silence and slumber and form a resistance group for self-defense. Otherwise, Fulani terrorists masquerading as herdsmen will exterminate them into extinction. Moreso, we want Igbo Christians to be ready because we cannot afford to allow Fulani to be murdering Igbo priests posted to the Northern Region for apostolic work by the Catholic Church. Enough is enough!
IPOB would have put these Fulani terrorists in their place if not that the Nigeria Army, Police, and DSS agents are fighting as their backup. It's obvious that the Nigerian government and its security agencies are working together with the terrorists to persecute Christians and non-Fulanis in Nigeria, but their Fulanization agenda will never succeed until Biafra Nation exits from the contraption called Nigeria.
COMRADE EMMA POWERFUL, MEDIA, AND PUBLICITY SECRETARY FOR IPOB.